This term we were given the chance to once again collaborate with other fellow MA from different subject majors for a Publication project with publisher Robert Violette and his art director Melanie Mues.
My group consist of people from Graphics, Fashion, Textile, Product Design and Fine Arts.
We decided to touch on the subject of unemployment since it is considered as a current issue.
After our first meet up we decided it would be best if everyone just go on their own to do research, collect information and any other stuffs as we had nothing in hand during our first meeting to discuss about. There was lots of different idea how to approach this idea we had, some which I thought was rather stupid and doesn't make sense.

Eg. Be happy you're not employed; Ways to not be employed.




*Rant : We're suppose to be looking for a job! Not looking how to be jobless!*
During our second meet up many of them just brought newspaper cuttings, books, and other text format stuffs. I decided to instead of looking up for more text to bring in, I would sketch some ideas out. At least we would have a rough idea of how we would get about this project. Nothing much came out of this group meeting. It was more like to catch up and see what we have done and what we are going to present during the meeting with the lecturers.
My sketches :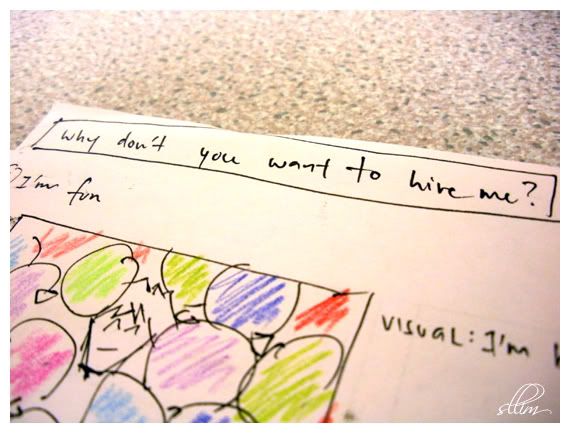 Tagline : Why don't you want to hire me?

14 ideas
The following day was meeting up with the lecturers. After consulting Frank and Stuart, our direction suddenly took a big turn. All sort of other ideas came up. Even to the point of totally disregarding the unemployement idea. After much discussion and debate we soon agree to the idea of the '
Nothing Skill
' - skills that we often take for granted but turn out to be of great use.


I plan to work on developing from my sketches. I'm sure there is something I could gather from there.
Frank said something that made me stop and think coz it's a phrase constantly spoken of by my Art Director while I was working "Don't think the viewers are stupid. We must always give them space to think"

How true.