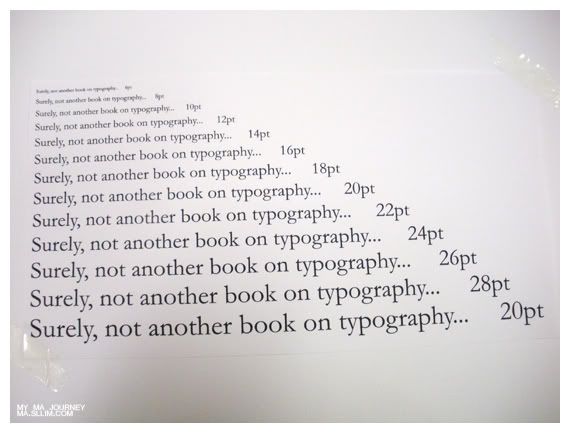 Surely, it is.
I've been doing some cutting and pasting lately.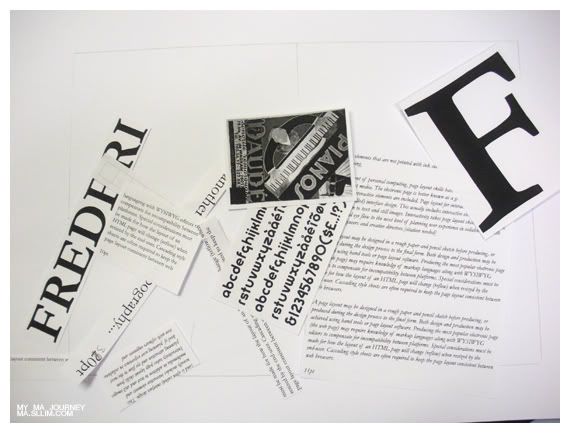 And I must say it is really fun. Something different from what I've been doing; reading, writing, staring into the computer screen.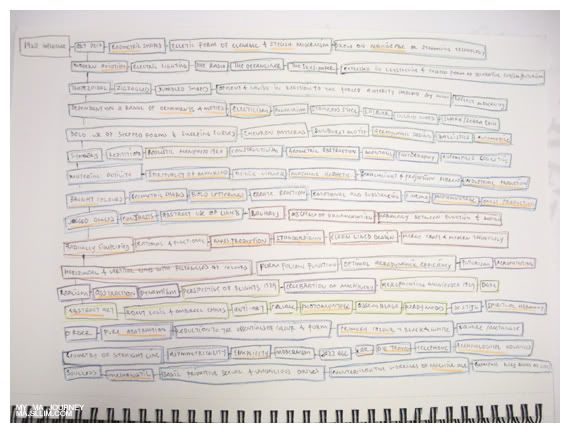 There's so much of freedom to arrange the layout as I want to. Add drop caps whenever I want to. Italic. Normal. Huge size. Tiny size. 1 column. 2 columns. 3 columns. There's just no end.
Now to the more serious part of the project. My book.
What is it about?
Typography. Which is the subject of typeface. I'm looking at the influence that was involved in their creation. Typography is not just type, it's more than that, really; It's where aesthetic meets engineering, arts meets maths, something that can be believed as a good cause. It was once craft based, created largely by skillful compositors/type designers. It has now move out of the print shop and has become a close connection to art, technology, literacy. It is now associated with avantgarde activities in communication and innovation. It was, is, and will be a subject to designers wanting to make their mark. Typography is the architecture of the written language & it is the centre of out culture. Typography is not just typography, it is language, technology, art, philosophy.
I've narrowed down from 100 years to 10 years. The 10 years I've chosen to focus is the 1920s.
Why 1920s???
Simply because it has so much of influence on Graphic Design! Even up to today the 1920s have influence so many designers; Neville Brody - influenced by Rodchenko from Constructivist, Ian Anderson from The Designers Republic - heavily influenced by constructivism, Cyberpunk - influenced by Futurism, Pop Art - influenced by Dada, just to mention a few. Also there are fonts that were created in the 1920s that are still being widely used today; Futura by Paul Renner in 1927, Broadway by Morris Fuller Benton in 1929, and many others still cover the design that are created today. The spur of growth of many art movement also happened in this decade and it gives a wide variety of influence to the work of art/design. Bauhaus, who could forget this name, set the standard for typography up to today. Jan Tschichold, New Typography, set the 'rules' for the usage of typography. No doubt there are various look of typography but it all started when the rules were set. To break the rules one must first fully understand it. Manifestos were written and practised during this decade. Manifestos that changed the appearance of design. Thoughts that led to the birth of advertizing industry. People who wanted to change, be separated from the past, to start anew, to adapt to the changes that were happening, to change for the better, to welcome in the machine age, to make a mark in history!
Influences in the 1920s.
After looking at the research I've gathered. There are a number of similarities that keep appearing. Machine age, aviation, dynamism, geometric, mass production, photomontage, technological advancement, bright colour, abstraction, simplicity, automobile. I'll be using these key points to come out with a cover for my book that shouts out "1920s!!!" at the first glance.
~
Food for thought.
I'm not just a designer; I'm an engineer, an artist, a philosopher, a lawyer, a creator, a linguist, a mathematician, a psychologist; I'm all of them because of something we all take for granted and it is known as typography.
~